UK company, Sapphire Inspection Systems have joined forces with Viscofan Globus to promote a leading edge range of inspection solutions that are designed to keep your customers safe from the harmful contaminates that find their way into finished goods.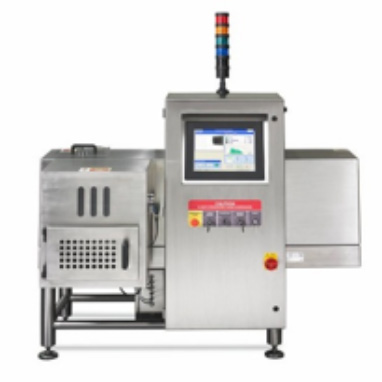 In addition to detecting for contaminants, x-ray inspection offers multiple additional quality checks, including:
Zoned mass checks (or product counting) ensure a full complement of products is packaged.
Seal integrity checks for hygiene and safety.
Product completion such as jam filling inside donuts.
Weight estimation.
Whilst there is never a 'one size fits all' here are the 5 reasons we believe you should give x-ray inspection consideration over metal detection:
Types of contaminants
X-ray inspection systems can detect a wide range of physical contaminants including metal, stone, glass, certain plastics and bone, our high-resolution fish bone inspection system can detect bones as small as 0.2mm.
Types of packaging
Best practice suggests placing your inspection system as close to the end of line as possible to manage a final product check. Remember, the more technical the processes the product has to go through, the more potential there is for contaminants.
X-ray systems can inspect virtually any packaging type, whilst metal detectors operate best with small packaging and bulk conveyed products. Naturally, products contained in metal film, foil packaging and tin cans are not suitable for metal detectors.
Depending on your product and packaging type we would recommend different styles of x-ray inspection. Large packaged cases and cartons for example, require a dual beam large format x-ray system can ensure that every aspect is carefully inspected.
Glass in glass inspection requires the right inspection alignment to ensure that even very thin shards of glass can be detected in thick glass bottomed jars.
Sapphire staff will check your product and packaging type and run product tests to ensure you have the right x-ray inspection advice.
Safety
X-ray is a type of man-made radiation, but one that is very well controlled by simply turning the x-rays on and off. X-ray generators are enclosed in steel cabinets and staff are further protected either by lead curtains or sloped conveyors to ensure x-rays are contained within the cabinet.
What about the food that is examined, does the x-ray affect this in any way?
Research by the World Health Organisation confirms that food exposed to radiation levels 10 million times stronger than those used in food inspection remains unaffected and does not change its' nutritional value.
Cost of Ownership and Cost of Recall
There are a number of ways of looking at the crude financial figures for inspection, but the most fundamental to value against, is what the cost of recall to your business and brand would be?
Sapphire X-Ray systems have a very high reliability rate and with all the added product quality checks the value against returned items creates a strong argument for x-ray in your overall product quality requirements.
Sapphire machines are:
Developed and designed by industry leading experts with over 40 years' experience.
Some of the most compact systems on the market, requiring less floor space than other models.
Built from the inside using our onsite manufactured components, guaranteeing quality and controlling costs – ensuring that x-ray inspection is an affordable option to all.
End-to-end manufacturing enables Sapphire control on lead times as well costs on parts and spares.